Huge plans of GGP (General Growth Properties) for the construction of a multifunctional center in South Norwalk are no secret for a few months. Contrarily, this company properly boasts a huge building. And no wonder if all goes according to their plans, in South Norwalk will grow really big and multifunctional center.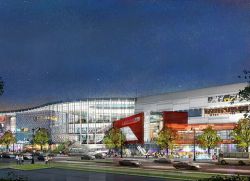 The centre will cover 1.1 million square foot area
On the big area, there would grow except the shopping center also a cultural and educational center, hotel with 150 rooms and plenty of great restaurants. The GGP´s plan is to make from this area a place for educational meetings, as well as performing arts or public gatherings. In short a place that will have something for everyone.
For retail space and restaurants are earmarked a total of 780 000 square foot, thus there will be located truly copious amount of stores. But in recent months GGP faced difficulties with a formal request for the modification of the existing Land Disposition Agreement (LDA). Let's hope that from the point of administrative will be everything fine and the construction will start soon.
Jobs will find there thousands of people
By GGP, only in the construction of this center will find jobs more than 5,500 people what is great information for the city hall in Norwalk, as well as for the local unemployed. After completion of the construction of center and putting it into operation, according to preliminary estimates should work inside at least 2,480 people.
GGP´s aim is to open this center in mid 2018.